Submission Deadline: Friday, March 18th, 2022
The international scientific poster session at Metabolic Health Summit is a place for you to showcase your original research and discuss your findings with other scientists, clinicians, and interested attendees. Pre-clinical and clinical data (including case reports) will be considered. To participate, prepare and submit an abstract following the guidelines below. Once accepted, poster preparation guidelines and presentation session details will be emailed to you. Presenting authors must be registered attendees of MHS 2022, and will receive a 20% discount code for registration once their abstract is accepted as a thank you for participating. The poster session will take place in the evening on Friday, May 6th, 2022.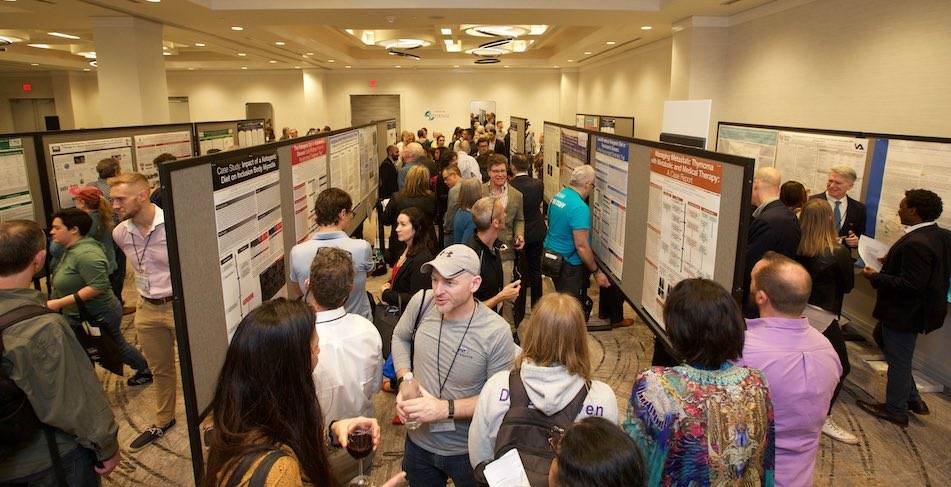 Abstract Guidelines for Scientific Poster Session
1. Prepare and submit your abstract in a Microsoft Word document or Plain Text.
2. Character count limit: 2500 (with spaces; not including Title, Authors, and Affiliations)
3. Provide all author names, and affiliations.
a. It is the duty of the submitting author to obtain consent from all authors prior to submission of abstract.
4. Each abstract should contain:
a. A sentence stating the study objective (unless given in the title)
b. A brief statement of methods
c. A summary of the results obtained
d. A statement of the conclusions
5.
Abstract title and body:
a.

Write the title of your abstract in Title Case (i.e. capitalize the first letter of each word, except
prepositions) and bolded.
b. The presenting author's name should be underlined. The presenting author must be a registered
attendee
c. Capitalize initial letters of trade names.
d. Use standard abbreviations for units of measure.
e. Other abbreviations should be spelled out in full at first mention, followed by the abbreviation in
parentheses. Exceptions include obvious abbreviations, such as DNA, RNA, etc.
ABSTRACT SUBMISSION DEADLINE: Please submit your abstract via email to info@metabolichealthsummit.com by Friday, March 18th, 2022. After submitting your abstract, you will receive a confirmation of receipt email. Once reviewed and accepted, you will receive an abstract acceptance email with additional information on the poster preparation guidelines and presentation session details. If you wish to withdraw an abstract, email info@metabolichealthsummit.com no later than April 15th, 2022.
Abstract format example:
Title of Abstract Written in Title Case
Jane Williams1

, Michael Smith

2

, Thomas Bennett

2

, Elizabeth Adams

1
1
Department of Molecular Pharmacology and Physiology, University of South Florida, Tampa, FL
2
Department of Neurology, University of Florida, Gainesville, FL
Abstract body written here, including study objective, methods, results, and conclusions. Character
count limit is 2500 with spaces, not including title or authors and affiliations.